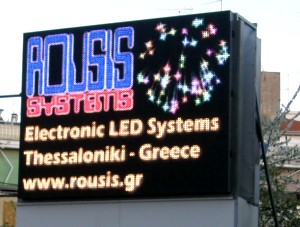 New! LED Video Wall at lower prices! Our colored electronic boards are made of high quality and brightness leds. Affordable variety of indoor and outdoor fully colored Matrix electronic displays, multicolored and monochrome boards.
New models in broad variety of pixels density not only for small but also for big distance sighting
Reliable colors and perfect brightness even against strong sun
Image transmission in real time from PC player
2 years guarantee and technical support for a lifetime
High resistance displays manufactured appropriately for outdoor operation conditions
Very long life (approximately 150.000 hours)
Very large surface displays (Video wall) even hundreds of square meters without gaps among the displays parts
High color efficiency, uniform image and configuration without curves thanks to extra fine LEDs
Capability of density option allows us to cover large or medium distances readability
Now you can advertise images and videos from PC Windows in real time and in all lighting conditions – even in strong sun. You can transmit image at all familiar formats 4:3 or 16:9 and also video from various sources like DVD, camera, VHS, Windows Movie (.mpg, .mov, .avi etc), live TV, satellite TV, cable TV etc.
For additional info contact the specialized staff of ROUSIS SYSTEMS.



As you can see every pixel consists of one green, one blue and two red LEDs.
These days, thanks to the new technology "virtual pixel" of ROUSIS SYSTEMS, all LEDs maintain equal distances between them.
Thereby, in addition to the appropriate processing of the signal by using more "virtual pixels", we manage to improve the resolution and quality of the displays image. The image and videos are more lucid and the result is amazing.

Diagram of the general system of video wall: