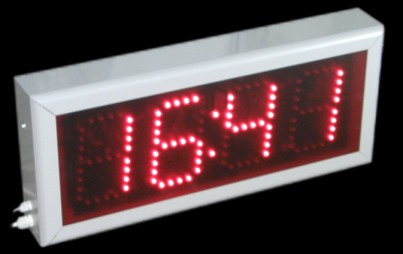 Outdoor Time Temperature LED signs of 15 cm digit height. It is designed and manufactured by our company with materials of excellent quality that ensure accuracy and lifetime for more than 16 years (if 24/7). It combines high performance with low power consumption as it has an automatic brightness adjustment sensor system. acording on external conditions. Its design is stylish with a lightweight aluminum frame and a plexi-glass optic cover. It is easy to operate with a wireless infrared remote control.
SPECIFICATIONS
Time, temperature & date display (with switch-over time selected)
Handling: with infrared wireless remote control.
Life time: +16 years (if 24/7)
Optional GPS receiver module of clock synchronization
High performance with low power consumption.
Automatically adjusts brightness depending to external light conditions (but also manual).
Long readability distance.
Durable and stylish construction with overheating protection.
Variety of LED colors: red, yellow, blue, green or white.
Optional Connection with PC wired or wireless.
Optional sensor for humidity display.
Ability to network multiple displays with a master clock for synchronized time apearence.
Available Models:
Product Photos: