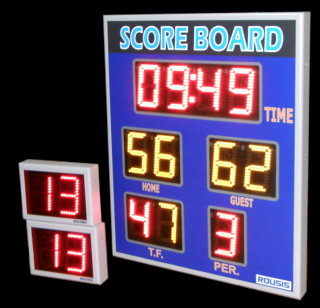 Full outdoor electronic scoreboard suitable for basketball and water polo. Available in three different sizes.
High quality LED
Four-digit counter with Up Counter and Counter Down
Available option to preset time.
Available shot clocks with two digits (wired or wireless)
Time and temperature display when not used as a timer
High precision clock and thermometer when the timer is off
Alarm horn at the end of time and at each break - pause
Good brightness intensity for excellent visibility even against strong sunlight
Auto brightness adjustment
Special software program
Operation with a wireless IR remote control or fixed console and computer
Wireless connectivity to a PC or fixed console within 200 meters range
Available advertising space on the front of the display for sponsor/team logo
High-resolution digital print
Warranty: 2 years
LED Basketball shot clock
The 2-digit shot clocks are part of the display but are also offered separately. You can place one or two shot clocks in any outdoor court, one clock in each basket. The basketball shot clocks have 24 and 14 seconds countdown as specified by regulations.

Optionally, the board may be accompanied by a waterproof controller, for the players to change the score on the court. It is placed near the panel attached to a cable to allow players easy access.
AVAILABLE MODELS: