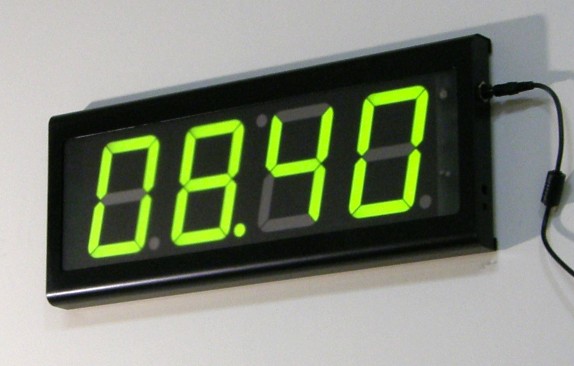 A very practical indoor LED display with clock, count up, countdown timer and temperature view.
The Electronic LED Clock Timer is suitable for gyms that have sport sessions like crossfit, tabata, pilates, yoga, aerobic, fitness box, dance, TRX, etc! It is easy to use in any space, either in an official sport game or a training session. It can be used also in convention rooms, in working places for keeping the time program of the employes (with the special buzzer sound). Also can works in a group of more than one clock displays with a sychronization mode (on master and many slaves).

Timer Options: stopwatch up counter down counter.
Timer countdown preset 2 memories.
Time and date display and optional temperature (when timer is off).
Supplied with IR remote control for set-up and stopwatch control.
Stylish design and high quality metallic case, electrostatic painted black.
Built-in buzzer for start and stop and in finish of stopwatch.
Installation: flush wall mounting or ceiling suspended mounting.
LED Color availability: red, yellow or blue.
Designed and manufactured in European Union
3 years guarantee
| | |
| --- | --- |
| Buy now online the Wall LED clock with or without console (the standard remote control is included in the main price) | |
Suitable for:
crossfit, tabata, aerobic, trx training, power bars, yoga, pilates, dance, timing intervals, sports events, special events, gyms, fitness centers, health clubs, meetings, conferences, lectures, competitions and more..