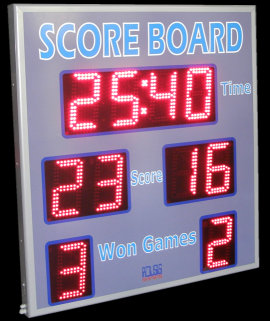 New electronic score boards for volleyball with an integrated control system with PC or wireless remote control. The timer device has high precision and sharpness thanks to high quality LEDs that we use in all our sport products.
Some of the features:
Dimensions: 120 x 130 x 11 cm
Up Counter and Counter Down with preset time.
Current time and temperature display when not timing.
Beeping sound at the end of the period and with each stop - pause.
Sufficient brightness intensity for very good visibility even against strong sun.
Handling: wireless infrared remote control or via PC.
Communication: wireless connectivity with a 200 m. wide computer.
Advertising space on top of the display.
Also available with printed sponsor logo or name of your sports club.
Appropriate for indoor and outdoor use.