Rousis Systems offers a complete series of multifunctional outdoor electronic, 6 digits LEDTimers in 7 different height of digits, from 15 up to 68cm digit height, to satisfy every need.
SPECIFICATIONS
Professional high accuracy timers
High brightness LEDs for operation in daylight
Real time, date and temperature indication (when the timer is off)
Operation by wireless RF remote or IR
Optionally Built-in rechargeable lead battery with autonomy 12-18 hours
Automatic brightness adjustment with integrated photosensor according to daylight
Free software for special operation through p.c.
Counter-down (stopwatch) and up-counter function
Built-in horn for the start, end and pause of the time
Stop - start function (freezing time)
Use as a time clock for emloyees' shifts (start-break-end of work)
Ability of GPS clock synchronization
Aluminum housing beautifully designed
Very long readability distance
Long life high quality materials.
LED color options: red, green, yellow, blue and white
Available serial communication protocol for integrating timers on other systems
Warranty: 3 years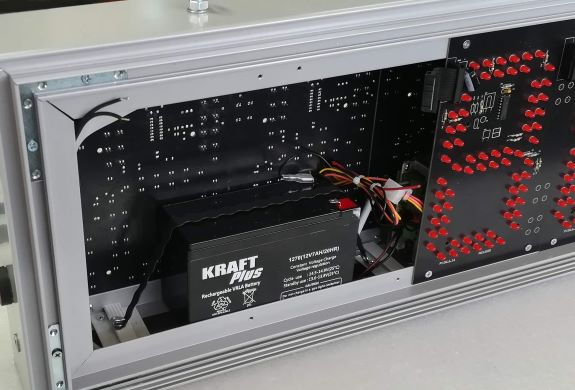 Suitable for:
sports stadiums, sports fields, gymnasiums, speed races, racing, swimming pools, competitions, timing intervals, sports events, special events, gyms (outdoor use as time/date/temperature indicator), fitness centers, health clubs, meeting rooms.