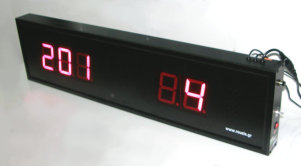 ΚΩΔΙΚΟΣ: QS5104LR
Product: Net Queue System
A new integrated control system which operates as queue system can be used by the majority of services and shops.Furthermore this system has the capability to control the public's traffic so as to serve each person in the appropriate moment.Moreover this queue system is suitable for civil services,hospitals,post offices and malls.This innovative system has been made by Rousis Systems and is consisted of:
Central display with voice notification which indicates the number of service.
Ticket dispenser with thermal printer which is completely automatic.The tickets are printed in the order and when someone pulls one,immediately the next is printed.
Terminal display of 3 digits for the office or other service point.
Control dialing with small display for each user at the point of service.
Central management unit system and optional connection to a computer for the conservation of statistics.
The queue system can be managed from one to several service points and even separate(categories) areas of service points.Each user can control separately from the specific controller with integrated display.
SPECIFICATIONS
The central system disposes:Three-digit and double-digit priority office(counters).Sound signal-loudspeaker. Dimensions 1010 (W) X 260 (H) X 75 (D) mm.
Terminal digit display for each counter(office).Digit height 2,3 inches.Dimensions (W) 207 X 140 (H) X 40 (D) mm.
System's connection with the computer.
Full statistics that are printable from the ticket printer even without the use of computer.
Automatic ticket disposal with thermal printer.Additionally the printer can print your own message or logo.
Operation system RS485 network security and connection of capability of many terminals (counters).
Complete technical support and coverage by Rousis Systems in Creece.