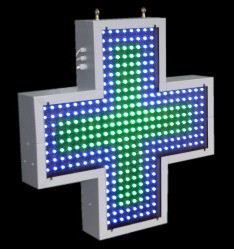 New electronic LED pharmacies cross with unlimited abilities in lower price. It can display Video animations, graphics, variable messages, time clock, date, temperature with super bright LEDs in two different colors: blue and green. Ability of automatic brightness control of the LEDs thanks to the light sensor. In addition, thanks to calendar scheduling, you can automatically display the days your pharmacy is on duty. The display can be done easily and quickly with special switch which allows the function of the cross (display of time, date, temperature and other basic messages) even when the pharmacy is not open.
With the new economic cross you have a great range of options in your hands. You can display messages, impressive animations, time clock, date and also temperature. What makes the cross superior is the very low consumption; about 80W average.
CODE: RCR8-GB
SPECIFICATIONS
Time, date, temperature and optionally humidity display
Display of video animations, graphics, various messages, time clock, date, temperature and other basic messages
Housing material of stainless steel and optic cover made of 3 mm acrylic sheet
Resistant construction designed for outdoor conditions
Internal control and protection from overheating
Capability of displaying various calendar scheduling messages
Capability of informing about the on duty pharmacies
Long lifetime LEDs of high quality
Perfect brightness controlled by automatic incorporated sensor
Frame dimensions are 80 x 80 x 11cm.
Contains 320 LEDs per side and it is available single or double side.