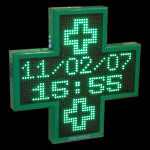 New LED Cross with many advantages!
The LED pharmacy cross is a very effective display for the Pharmacies, since LED signs are much brighter than the old neon signs. LED Cross is visible even during the day against the sun light. It can display various information e.g. opening hours, new products available, vaccines and any other service provided. It can display amazing visual effects to catch easily the attention of the potential customers. Also, it has the ability to project video (AVI format) on Windows and has FLASH memory storage 8 MBytes.
Specifications:
Super bright pure green LEDs
3500 mcd in 120X45° angle! with auto intensity for day and night.
Dot pitch (distance between the LEDs) 1,5 cm.
Practical and functional device.
Material of housing aluminum profile and acrylic optical front cover 3mm thickness.
Inputs: PS2 Keyboard PC (IBM compatible) USB or RS232 serial inputs for PC.
Very low consumption!
Programmable messages in two lines or one double in the center of cross.
A lot of special effects of messages and animations.
Displaying clock date and temperature.
Scheduling programmable messages.
Possibility of wireless communication.
Low price!!!
2 years guarantee.
A LED pharmacy cross has a low power consumption. A double face cross needs at max only 300 Watt power. With the high quality LEDs that ROUSIS SYSTEMS uses, the LED pharmacy cross has a very long life with good brightness