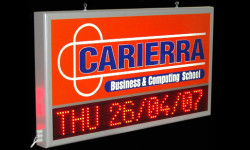 Mixed electronic signs are more complex constructions which consist of two main parts in one frame: electronic and bright.
In the bright part of the display you can choose the theme / logotype that will be printed in plain or in digital vinyl printing.
The system features automatic photo-sensor that detects the external weather conditions (lighting) and adjusts LED brightness accordingly (low consumption).
SPECIFICATIONS:
A very useful display for outdoor conditions with 1-4 lines of text.
Excellent brightness with ~2000 mcd per LED
Operation: wireless keyboard or computer.
Accompanied by a special Windows program.
Calendar message programming.
Long distance readability.
Various message rotation effects.
Capable of displaying time, date and temperature.
Time-programming: choice of length duration display for each message.
Very low power consumption.
Durable and stylish construction with overheating protection.
External temperature sensor with cable for high precision temperature indication.
Good operating guarantee: 2 years.