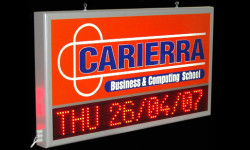 Mixed electronic signs are more complex structures and basically consist of 2 main parts, electronics and illuminated sign in a frame.
In the bright part of the inscription you can choose the theme that will be printed in plain or in digital printing.
The system features automatic detection of the external lighting that adjusts the intensity of the LED and opens to the bright lights party at night.
SPECIFICATIONS:
A very useful display for outdoor conditions with 1-4 lines of text.
Very good brightness with ~2000 mcd per LED
Handling with wireless keyboard or via PC
Special program for windows.
Big distance of readability
Many special functions of messages.
Time and temperature appearance.
Time programmable messages.