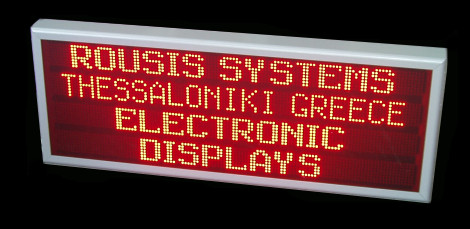 SPECIFICATIONS:
A very useful display for outdoor conditions with 4 lines of text, you can show more information at the same time
Very good brightness with ~2000 mcd per LED
Handling with wireless keyboard or via PC
Special program for windows.
Big distance of readability
Many special functions of messages.
Time and temperature appearance.
Time programmable messages.
Show room:
AVAILABLE MODELS:
| | | | | | | |
| --- | --- | --- | --- | --- | --- | --- |
| Μοντέλο | Height of character(cm) | frame dimensions(cm) | Distance of Readability(m) | LEDs per Pixel | Faces | Characters per Line |
| RS4L11/72 | 12 | 120 X 75 X 10 | 70 | 1 | Μονή | 12 |
| RS4L11/96 | 12 | 155 X 75 X 10 | 70 | 1 | Μονή | 16 |
| RS4L11/120 | 12 | 190 X 75 X 16 | 70 | 1 | Μονή | 20 |
| RS4L11/144 | 12 | 225 X 75 X 16 | 70 | 1 | Μονή | 24 |
| RS4L23/60 | 24 | 190 X 115 X 16 | 180 | 4 | Μονή | 10 |
| RS4L23/72 | 24 | 220 X 115 X 16 | 180 | 4 | Μονή | 12 |
| RS4L23/84 | 24 | 255 X 115 X 16 | 180 | 4 | Μονή | 14 |
| RS4L23/96 | 24 | 290 X 115 X 16 | 180 | 4 | Μονή | 16 |
| RS4L11/72D | 12 | 120 X 75 X 10 | 70 | 1 | Διπλή | 12 |
| RS4L11/96D | 12 | 155 X 75 X 10 | 70 | 1 | Διπλή | 16 |
| RS4L11/120D | 12 | 190 X 75 X 10 | 70 | 1 | Διπλή | 20 |
| RS4L23/60D | 12 | 225 X 75 X 10 | 70 | 1 | Διπλή | 24 |
| RS4L23/60D | 24 | 190 X 115 X 16 | 180 | 4 | Διπλή | 10 |
| RS4L23/72D | 24 | 220 X 115 X 16 | 180 | 4 | Διπλή | 12 |
| RS4L23/84D | 24 | 255 X 115 X 16 | 180 | 4 | Διπλή | 14 |
| RS4L23/96D | 24 | 290 X 115 X 16 | 180 | 4 | Διπλή | 16 |