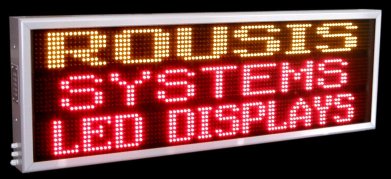 Now all the Rousis Systems signs with more than one line are available with the choice of different color per line. Also the displays may conclude an optional GPS receiver for clock synchronization, an additional indication of moisture and the specific wireless keyboard for Rousis Systems electronic LED displays. In addition, the specific exempted from cables transceiver offers you wireless sign operation even from distance of 200 meters!
SPECIFICATIONS:
A very useful display for outdoor conditions with 3 lines of text
Very good brightness with ~2000 mcd per LED
Handling with wireless keyboard or via PC
Special program for windows.
Big distance of readability
Many special functions of messages.
Time and temperature appearance.
Time programmable messages.
Show room:
| | | | | | | |
| --- | --- | --- | --- | --- | --- | --- |
| Model | Height of character(cm) | frame dimensions(cm) | Distance of Readability(m) | LEDs /Pixel | Faces | Characters per Line |
| RS3L11/72 | 12 | 120 X 55 X 10 | 70 | 1 | Μονή | 12 |
| RS3L11/96 | 12 | 155 X 55 X 10 | 70 | 1 | Μονή | 16 |
| RS3L11/120 | 12 | 190 X 55 X 16 | 70 | 1 | Μονή | 20 |
| RS3L11/144 | 12 | 225 X 55 X 16 | 70 | 1 | Μονή | 24 |
| RS3L23/60 | 24 | 190 X 85 X 16 | 180 | 4 | Μονή | 10 |
| RS3L23/72 | 24 | 220 X 85 X 16 | 180 | 4 | Μονή | 12 |
| RS3L23/84 | 24 | 255 X 85 X 16 | 180 | 4 | Μονή | 14 |
| RS3L23/96 | 24 | 290 X 85 X 16 | 180 | 4 | Μονή | 16 |
| RS3L11/72D | 12 | 120 X 55 X 10 | 70 | 1 | Διπλή | 12 |
| RS3L11/96D | 12 | 155 X 55 X 10 | 70 | 1 | Διπλή | 16 |
| RS3L11/120D | 12 | 190 X 55 X 10 | 70 | 1 | Διπλή | 20 |
| RS3L23/60D | 12 | 225 X 55 X 10 | 70 | 1 | Διπλή | 24 |
| RS3L23/60D | 24 | 190 X 85 X 16 | 180 | 4 | Διπλή | 10 |
| RS3L23/72D | 24 | 220 X 85 X 16 | 180 | 4 | Διπλή | 12 |
| RS3L23/84D | 24 | 255 X 85 X 16 | 180 | 4 | Διπλή | 14 |
| RS3L23/96D | 24 | 290 X 85 X 16 | 180 | 4 | Διπλή | 16 |