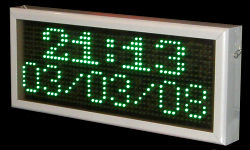 Rousis Systems two lines outdoor displays are available not only in one LED color but also in two different LED colors per line. Also, the displays may include an optional GPS receiver for clock synchronization or an additional humidity indicator. The handling of the display can be done either via wireless Rousis Systems keyboard or via wireless connection with sign that reaches 200 meters!
SPECIFICATIONS:
Handling with wireless keyboard or via PC.
Special program for windows.
Big readability distance.
High contrast and brightness.
Many special message functions.
Time and temperature appearance.
Calendar scheduling messages.
AVAILABLE MODELS:
| | | | | | | |
| --- | --- | --- | --- | --- | --- | --- |
| Model | Height of character(cm) | Dimensions (m) | Distance of Readability(m) | LEDs / Pixel | faces | Characters per line |
| RS2L11/48 | 12 | 80 Χ 35 Χ 11 | 70 | 1 | Μονή | 8 |
| RS2L11/72 | 12 | 120 X 35 Χ 11 | 70 | 1 | Μονή | 12 |
| RS2L11/96 | 12 | 155 Χ 35 Χ 11 | 70 | 1 | Μονή | 16 |
| RS2L11/120 | 12 | 190 Χ 35 Χ 11 | 70 | 1 | Μονή | 20 |
| RS2L11/144 | 12 | 225 Χ 35 Χ 11 | 70 | 1 | Μονή | 24 |
| RS2L23/48 | 24 | 160 X 55 Χ 16 | 180 | 4 | Μονή | 8 |
| RS2L23/60 | 24 | 190 Χ 55 Χ 16 | 180 | 4 | Μονή | 10 |
| RS2L23/72 | 24 | 220 Χ 55 Χ 16 | 180 | 4 | Μονή | 12 |
| RS2L23/84 | 24 | 250 X 55 X 16 | 180 | 4 | Μονή | 14 |
| RS2L23/96 | 24 | 280 X 55 X 16 | 180 | 4 | Μονή | 16 |
| RS2L11/48D | 12 | 80 Χ 35 Χ 10 | 70 | 1 | ΔΙπλή | 8 |
| RS2L11/72D | 12 | 120 X 35 Χ 10 | 70 | 1 | Διπλή | 12 |
| RS2L11/96D | 12 | 155 Χ 35 Χ 10 | 70 | 1 | Διπλή | 16 |
| RS2L11/120D | 12 | 190 Χ 35 Χ 10 | 70 | 1 | Διπλή | 20 |
| RS2L11/144D | 12 | 225 Χ 35 Χ 10 | 70 | 1 | Διπλή | 24 |
| RS2L23/48D | 24 | 160 X 55 Χ 16 | 180 | 4 | Διπλή | 8 |
| RS2L23/60D | 24 | 190 Χ 55 Χ 16 | 180 | 4 | Διπλή | 10 |
| RS2L23/72D | 24 | 220 Χ 55 Χ 16 | 180 | 4 | Διπλή | 12 |
| RS2L23/84D | 24 | 250 X 55 X 16 | 180 | 4 | Διπλή | 14 |
| RS2L23/96D | 24 | 280 X 55 X 16 | 180 | 4 | Διπλή | 16 |