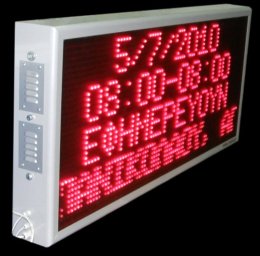 SPECIFICATIONS:
New Impressive Display of the ROUSIS SYSTEMS, great flexibility and many applications.
With new CPU and ability to display Video in AVI format from Windows and other fixed graphics.
Internal memory storage Flash 8 MB.
Ability to display text in 4 lines or 2 double in

height.

External probe temperature measurement and display for representation, precision and

time and date.

Good brightness and wide viewing angle with Oval LEDs 110X45 º and

2500 mcd / LED.
Show room:
Video of the product:

AVAILABLE MODELS:
| | | | | | | |
| --- | --- | --- | --- | --- | --- | --- |
| Model | Height of character(cm) | frame dimensions(cm) | Distance of Readability(m) | LEDs /Pixel | Faces | Characters per Line |
| RSG15.48/32 | 11/24 | 84 Χ 60 Χ 11 | 70/140 | 1 | Single | 8 |
| RSG15.64/32 | 11/24 | 108 Χ 60 Χ 11 | 70/140 | 1 | Single | 10 |
| RSG15.80/32 | 11/24 | 132 Χ 60 Χ 11 | 70/140 | 1 | Single | 13 |
| RSG15.96/32 | 11/24 | 147 Χ 60 Χ 11 | 70/140 | 1 | Single | 16 |
| RSG15.112/32 | 11/24 | 180 Χ 60 Χ 11 | 70/140 | 1 | Single | 18 |
| RSG15.128/32 | 11/24 | 205 Χ 60 Χ 11 | 70/140 | 1 | Single | 21 |
| RSG15.144/32 | 11/24 | 230 Χ 60 Χ 11 | 70/140 | 1 | Single | 24 |
| RSG15.160/32 | 11/24 | 254 Χ 60 Χ 11 | 70/140 | 1 | Single | 26 |
| RSG15.176/32 | 11/24 | 290 Χ 60 Χ 11 | 70/140 | 1 | Single | 29 |
| RSG15.192/32 | 11/24 | 303 Χ 60 Χ 11 | 70/140 | 1 | Single | 32 |
| RSG15.208/32 | 11/24 | 328 Χ 60 Χ 11 | 70/140 | 1 | Single | 34 |
| RSG15.224/32 | 11/24 | 352 Χ 60 Χ 11 | 70/140 | 1 | Single | 37 |
| RSG15.240/32 | 11/24 | 376 Χ 60 Χ 11 | 70/140 | 1 | Single | 40 |
| RSG15.256/32 | 11/24 | 400 Χ 60 Χ 11 | 70/140 | 1 | Single | 42 |
| RSG15.48/32D | 11/24 | 84 Χ 60 Χ 15 | 70/140 | 1 | Duble | 8 |
| RSG15.64/32D | 11/24 | 108 Χ 60 Χ 15 | 70/140 | 1 | Duble | 10 |
| RSG15.80/32D | 11/24 | 132 Χ 60 Χ 15 | 70/140 | 1 | Duble | 13 |
| RSG15.96/32D | 11/24 | 147 Χ 60 Χ 15 | 70/140 | 1 | Duble | 16 |
| RSG15.112/32D | 11/24 | 180 Χ 60 Χ 15 | 70/140 | 1 | Duble | 18 |
| RSG15.128/32D | 11/24 | 205 Χ 60 Χ 15 | 70/140 | 1 | Duble | 21 |
| RSG15.144/32D | 11/24 | 230 Χ 60 Χ 15 | 70/140 | 1 | Duble | 24 |
| RSG15.160/32D | 11/24 | 254 Χ 60 Χ 15 | 70/140 | 1 | Duble | 26 |
| RSG15.176/32D | 11/24 | 290 Χ 60 Χ 15 | 70/140 | 1 | Duble | 29 |
| RSG15.192/32D | 11/24 | 303 Χ 60 Χ 15 | 70/140 | 1 | Duble | 32 |
| RSG15.208/32D | 11/24 | 328 Χ 60 Χ 15 | 70/140 | 1 | Duble | 34 |
| RSG15.224/32D | 11/24 | 352 Χ 60 Χ 15 | 70/140 | 1 | Duble | 37 |
| RSG15.240/32D | 11/24 | 376 Χ 60 Χ 15 | 70/140 | 1 | Duble | 40 |
| RSG15.256/32D | 11/24 | 400 Χ 60 Χ 15 | 70/140 | 1 | Duble | 42 |