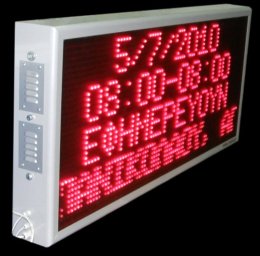 SPECIFICATIONS:
New impressive display with great flexibility and many applications.
With new CPU and ability to display Video in AVI format from Windows and other fixed graphics.
Internal memory storage Flash 8 MB.
Ability to display text in 2 lines or 1 double in

height

line

.

External temperature sensor for display of precise time and date.

Outstanding brightness and wide viewing angle with oval LEDs 110X45º &

2500 mcd / LED.
Show room:
Video of the product:

AVAILABLE MODELS:
| | | | | | | |
| --- | --- | --- | --- | --- | --- | --- |
| Model | Height of character(cm) | frame dimensions(cm) | Distance of Readability(m) | LEDs /Pixel | Faces | Characters per Line |
| RSG15.48/32 | 11/24 | 84 Χ 60 Χ 11 | 70/140 | 1 | Single | 8 |
| RSG15.64/32 | 11/24 | 108 Χ 60 Χ 11 | 70/140 | 1 | Single | 10 |
| RSG15.80/32 | 11/24 | 132 Χ 60 Χ 11 | 70/140 | 1 | Single | 13 |
| RSG15.96/32 | 11/24 | 147 Χ 60 Χ 11 | 70/140 | 1 | Single | 16 |
| RSG15.112/32 | 11/24 | 180 Χ 60 Χ 11 | 70/140 | 1 | Single | 18 |
| RSG15.128/32 | 11/24 | 205 Χ 60 Χ 11 | 70/140 | 1 | Single | 21 |
| RSG15.144/32 | 11/24 | 230 Χ 60 Χ 11 | 70/140 | 1 | Single | 24 |
| RSG15.160/32 | 11/24 | 254 Χ 60 Χ 11 | 70/140 | 1 | Single | 26 |
| RSG15.176/32 | 11/24 | 290 Χ 60 Χ 11 | 70/140 | 1 | Single | 29 |
| RSG15.192/32 | 11/24 | 303 Χ 60 Χ 11 | 70/140 | 1 | Single | 32 |
| RSG15.208/32 | 11/24 | 328 Χ 60 Χ 11 | 70/140 | 1 | Single | 34 |
| RSG15.224/32 | 11/24 | 352 Χ 60 Χ 11 | 70/140 | 1 | Single | 37 |
| RSG15.240/32 | 11/24 | 376 Χ 60 Χ 11 | 70/140 | 1 | Single | 40 |
| RSG15.256/32 | 11/24 | 400 Χ 60 Χ 11 | 70/140 | 1 | Single | 42 |
| RSG15.48/32D | 11/24 | 84 Χ 60 Χ 15 | 70/140 | 1 | Duble | 8 |
| RSG15.64/32D | 11/24 | 108 Χ 60 Χ 15 | 70/140 | 1 | Duble | 10 |
| RSG15.80/32D | 11/24 | 132 Χ 60 Χ 15 | 70/140 | 1 | Duble | 13 |
| RSG15.96/32D | 11/24 | 147 Χ 60 Χ 15 | 70/140 | 1 | Duble | 16 |
| RSG15.112/32D | 11/24 | 180 Χ 60 Χ 15 | 70/140 | 1 | Duble | 18 |
| RSG15.128/32D | 11/24 | 205 Χ 60 Χ 15 | 70/140 | 1 | Duble | 21 |
| RSG15.144/32D | 11/24 | 230 Χ 60 Χ 15 | 70/140 | 1 | Duble | 24 |
| RSG15.160/32D | 11/24 | 254 Χ 60 Χ 15 | 70/140 | 1 | Duble | 26 |
| RSG15.176/32D | 11/24 | 290 Χ 60 Χ 15 | 70/140 | 1 | Duble | 29 |
| RSG15.192/32D | 11/24 | 303 Χ 60 Χ 15 | 70/140 | 1 | Duble | 32 |
| RSG15.208/32D | 11/24 | 328 Χ 60 Χ 15 | 70/140 | 1 | Duble | 34 |
| RSG15.224/32D | 11/24 | 352 Χ 60 Χ 15 | 70/140 | 1 | Duble | 37 |
| RSG15.240/32D | 11/24 | 376 Χ 60 Χ 15 | 70/140 | 1 | Duble | 40 |
| RSG15.256/32D | 11/24 | 400 Χ 60 Χ 15 | 70/140 | 1 | Duble | 42 |