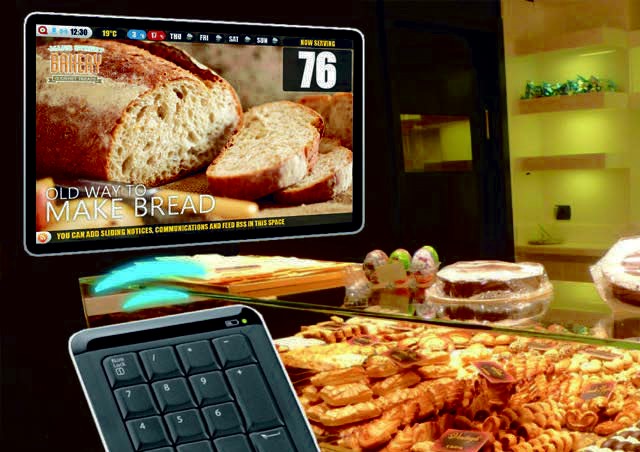 Rousis Systems LTD is pleased to introduce the innovative Q-RETAIL queue management system for shops and retailers. It is actually a remarkable evolution in the market of simple queue management systems since it is able to track, via a single instrument, both the progress of the queue numbers and the offers and promotions to waiting customers. In this way, what once was "just" a queue management system, becomes also an effective advertising and marketing tool, able to entertain customers and entice them towards a sudden purchase.
The system is available in a standard configuration specifically designed for small/medium sized shops, and includes:
• 21" LCD monitor with integrated PC (QS-LCD21)
• Wireless numeric keypad (QS-KEYPAD);

Note: LCD monitor also available in 27" and 32" versions
The layout of the screen is set by default and consists of a series of areas displaying all various information. In addition to the three main areas, consisting in the ACTIVITY REGISTRATION, YOUR TURN NUMBER and the MEDIA CONTENTS, the system allows, by connecting to the Internet, to display additional web contents, such as TIME, WEATHER of the chosen location and an information line with the latest current news (RSS) . The advancement of numbering takes place through a wireless pad that also allows the decrease and the call of a random number by setting it on the numeric keypad. The system already includes a software application for voice calling of the number. The LCD displays are equipped with a RJ45 LAN system for connection to the local network or may be used in Wi-Fi mode through a suitable Access Point. Together with the product we provide software for managing the various functions and programming of multimedia contents.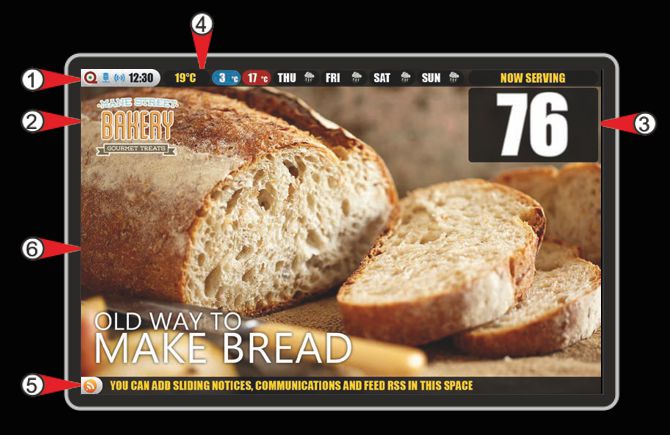 Area 1 – Q-RETAIL logo and current time;
Area 2 – Logo and name of the business;
Area 3 - Two-digit turn number (queue management system);
Area 4 - Weather conditions also including min/max temperature;
Area 5 - Latest News (RSS);
Area 6 - Multimedia contents, images and videos.