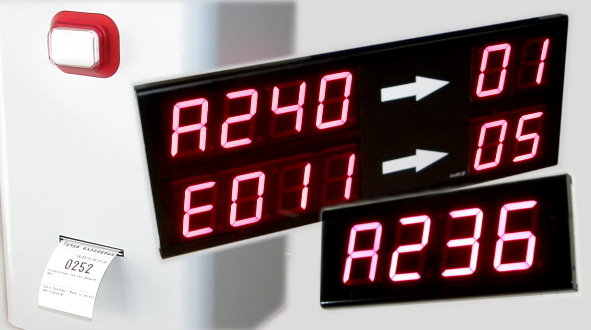 A complete queue system entirely designed and manufactured from Rousis Company.
Suitable for services and stores where the control and the indication of the priority number to the public is required. E.g.; Banks, hospitals, post offices, public services, supermarkets etc. This system is designed by Rousis Systems and consists of the following parts:
Main Display indication service and sector Number with audible alarm.
Automatic Printing tickets thermal unit. The tickets are printed in order and when someone pulls one the next one is printed immediately.
Three digits Terminal display for the office or clinic or any other service point.
Call control with small display for each user at the operating point.
Central system's management unit and optional connection to a computer for keeping statistics.
The Queue system can manage up to 32 service points to one or up to 16 categories. Each user can call separately from the specific controller with integrated display.
Advantages
Ability to select various terminal display sizes to indicate the priority order
Advanced central processor designed in Windows and able to use your existing computers
Full printable statistics from the server
Automatic ticket print with fast thermal printer and complete configuration of ticket's data
System's operation to RS485 network security which provides data security
Money saving thanks to the free software controller which operates in Windows
Completely designed and manufactured by Rousis Systems to high standards and granted expertise for assistance during the operation
Lifetime full technical support
Training of your staff to operate the system
System's parts
Automatic ticket dispenser

Model: RSQ-TT6

Printing speed: 80 mm/s

Thermal printing paper width: 60 mm.

Autonomy: 900 tickets per roll.

Up to six buttons to select category.

Height above ground ~ 1.5m.

Customization possibility of the ticket's text

Printing and printing date and people waiting.

With automatic paper cutting

Wired or wireless connection to the main processor.
Thermal ticket printer POS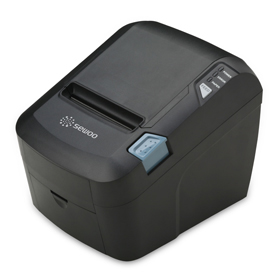 Model: LK-TE322

High speed printing: 200mm / s

Width of thermal printer paper: 80 mm.

Capability to print up to 16 categories

Compact size suitable for placement on desk 15.5 x 20 x 15 cm

Works with special Rousis Systems software with USB connection

Ticket printing with detailed information (time, date, people waiting)

Automatic paper cutting

Operator required for ticketing
Desktop call keypad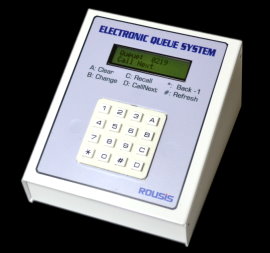 Model: RSQ-KP16

Desktop call keypad dimensions: 60X80cm

Capability to connect up to 32 POS in a system

Wired or wireless connection to the central processor

Keyboard keypad of 16 keys (4X4)

Backlit LCD screen 2X16 characters

External power supply 12 V (pack)
Software call keypad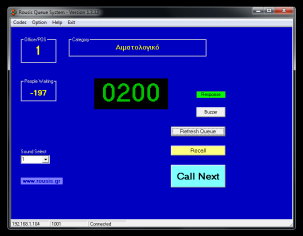 Model: RSG-SW32C
Windows software for call panel
Can be installed in every computer
Contact with the central processor via an Ethernet network
Local speaker capability with ring tone
Central processor unit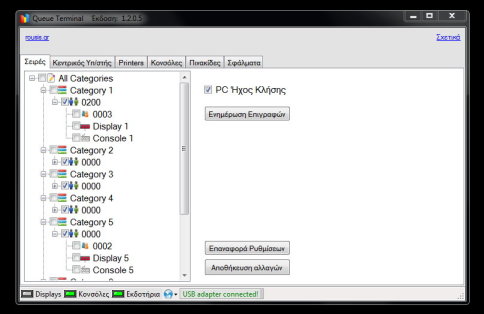 Model: RSG-SW32S
Rousis Systems' Advanced central processor (software panel) for Windows
Supports up to 32 POS terminal service points
Supports up to 16 different service categories
Supply up to 16 LED signs wired or wireless, for each category
Wired or wireless login with automatic ticket dispenser
Supports connection with thermal POS printer via USB port
Central display or LCD screen operation to show the last calls
Capability to export and print statistics of the traffic system
Main central display LED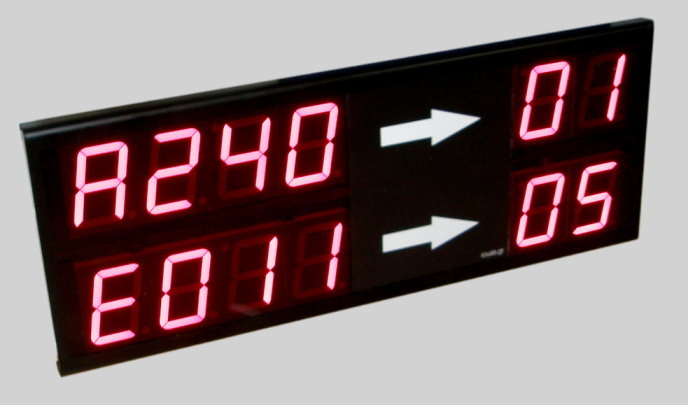 1 Row Model
Model: RS-TD610
Terminal electronic indoor LED display
With SMD LEDs, 7 segments (digits) with solid lines (no dots)
Dimensions: 43 X 17 X 3 cm
Character height: 10 cm
Aluminum construction with electrostatic paint
Capacity: 6 digits (only numbers)
Capability of embedded audio signal
1 Rows Model
Model: RSQ-TD1210
Terminal electronic indoor LED display
With SMD LEDs, 7 segments (digits) by solid lines (no dots)
Dimensions: 86.5 X 33.5 X 3 cm.
Character height: 10 cm
Aluminum construction with electrostatic paint
Capacity: 12 digits (only numbers)
Capability of embedded audio signal
Terminal LED display

Model: RSi1L7 / 72
Electronic sign outdoor LED
With SMD LEDs / brightness 400 mcd
Adjustable brightness intensity
Dimensions: 82 X 11 X 5,5 cm
Aluminum construction with electrostatic paint
LED Color: Red
Character height: 8 cm
Text Capacity: 12 characters in 1 line
Analysis: 72 X 8 pixels
Terminal 4 digits LED display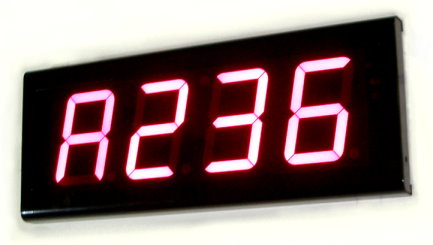 Model: RSQ-TD410
Terminal electronic indoor LED display
With SMD LEDs, 7 segments (digits) by solid lines (no dots)
Dimensions 43,2 X 17,2 cm.
Character height: 10 cm
Aluminum construction with electrostatic paint
Capacity: 4 digits (only numbers)
Capability of embedded audio signal
Central TFT flat display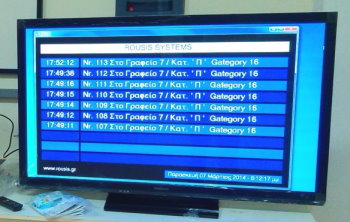 Model: RSQ-TFT 50
Screen size: 50 inches
Connection to the central processor with HDMI
Display of multiple lines with the latest calls
Capability of call's audible signal through the screen
End FAQ
See the schematic diagram of the system
| | |
| --- | --- |
| | For the installment of the Queue system the existing computers of the service can be used as long as they communicate with each other with the local network for the use of PC panels. For the special call keypads simple telephone cable is required (channel RS485) . The system is also available wireless. |
*Click for enlarge photo