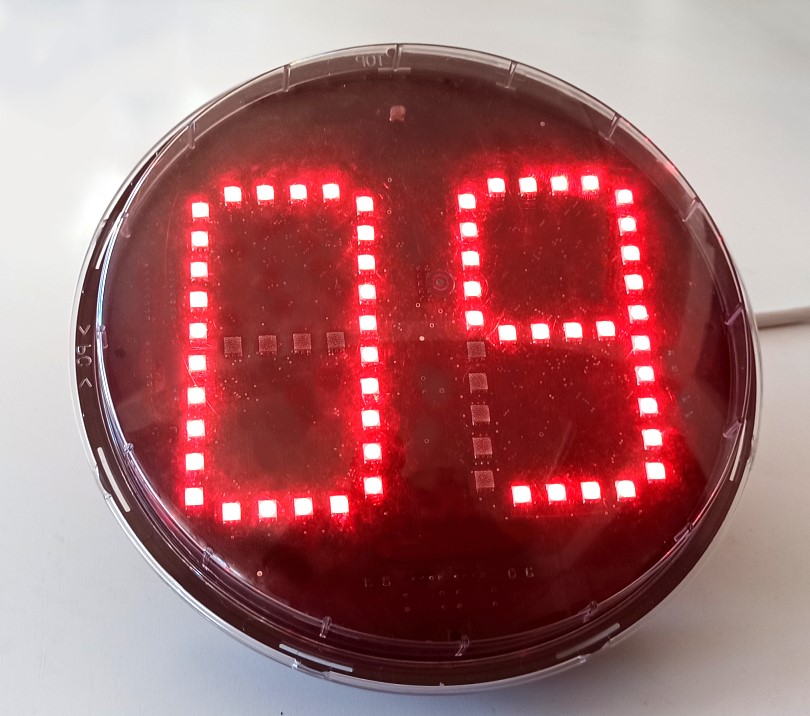 Electronic Traffic Light - Timer with a diameter of φ20 cm and colored LEDs (RGB), for countdown systems on road and pedestrian traffic lights.
Designed and produced entirely by our company.
In particular, it is a two-digit color RGB LED-timer, distinguished by its flexibility, because the colors of the LEDs change according to your needs!
Its basic function is that it counts down until the green or red light turns on, alternating the color of the digits accordingly.
The timer has a "self learning" system, i.e. it detects by itself how long each traffic light (red or green) lasts and when the switch should be made. This is achieved with the help of two high voltage monitoring inputs.
The board can easily be fitted and operated in any standard 20cm diameter lantern housing in an existing installation as it is powered directly from 220 Volts AC.
The device also features:
RS485 Modbus serial port for connection to PLC or other control systems but
light sensor for automatic adjustment of the brightness of the LEDs depending on the external lighting conditions.

Studies of several European Union countries have shown that the installation of a countdown system at traffic lights leads to a significant reduction in serious traffic accidents. The increase in road accidents involving pedestrians and cyclists has prompted the reaction of state authorities, who are rushing to upgrade road markings.
General characteristics:
Full color 3 in 1 high brightness RGB LEDs.
Automatic brightness adjustment with integrated photo-sensor or manual level selection.
Automatic detection of signal duration time or selection of fixed countdown time
Easy installation and setup in existing installations
Safety shutdown if the red light is off.
Easy installation on existing ø 200 mm traffic signal housings
Indication of the remaining time of the red and green traffic light with the corresponding color and optionally the orange signal
Built-in RS485 Modbus serial communication for full control from the node controller and communication protocol available.
Complete manual programming options with built-in DIP switches