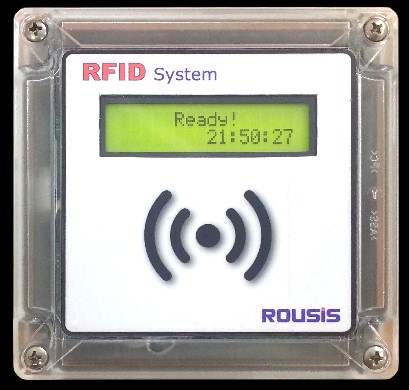 Multi-purpose RFID Reader for 125 kHz tags. Has serial interface, RS232/RS485 or wireles and special protocol for communication with your software application. Industrial high quality construction that operates in difficult weather conditions (outdoor use). Suitable for access control systems, open parking bars - doors, employee time tracking and other RFID systems.
The device is absolutely water proof and has outputs to control several devices (open/close) relays, lamps, doors, parking bards etc. Is very ease to use through its specific protocol or modbus standard. Comes with LCD display 2X16 characters with back light.
Is completely designed and manufactured in European Union. We provide you full technical support and 3 years warranty!
Technical features of RFID reader
• RFID Reading frequency: 125kHz
• Antenna: Built-in
• Good reading distance 50-90mm (depending on card)
• Dimensions: 122 X 124 X 55 mm
• Cover material: polycarbonate (PC)
• IP rating: IP66, IP67
• Power supply: 7 ~ 15 VDC - 200 mA
• Operating temperature: -20 ° C to + 60 ° C
• Communication-Connection: RS232, RS485, Ethernet, RF Wireless 868 MHz
• Comunication protocol: Modbus or Rousis RFID Protocole
• Outputs: 8 channel open collector
• Network operation: up to 255 terminals.
• Data Security: CRC16
• Card format: EM 4100 or compatible
• Coding: Manchester 64-bit, module 64