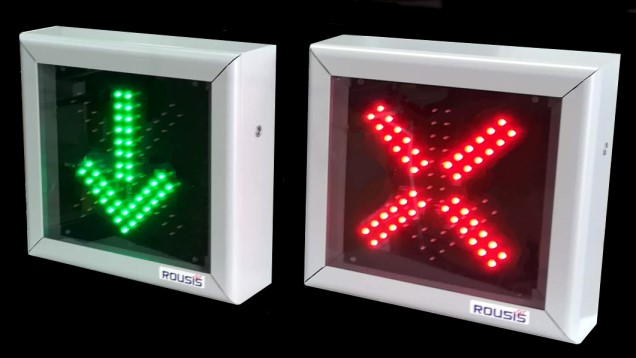 LED Electronic Signs for Traffic Lane Marking. (LCS Lane Control Sign) outdoor. It has 2 preset signals, red "X" prohibitive and green down arrow to indicate that the lane is open.
The frame is made of aluminum with electrostatic paint. External dimensions: 33 X 32 X 11 mm.
Net amount of symbols is 19 cm. Suitable dimensions for small distances or spaces.
Specification:
High quality LED HP, high brightness likely to make signs visible even in difficult conditions, strong sun, fog, etc.
Great color fidelity red LED high fidelity and pure green.
Manufacturing capability with large LED funnels for special places like parking areas.
Simple operation with output cable to a simple switch selection signal
Moreover RS485 serial output for connection to a computer or for connecting to telematics systems.
Wireless connectivity RF 868MHz
Robust construction suitable for outdoor

Aluminum profile acrylic lid with visual high resistance to ultraviolet radiation and large temperature changes.