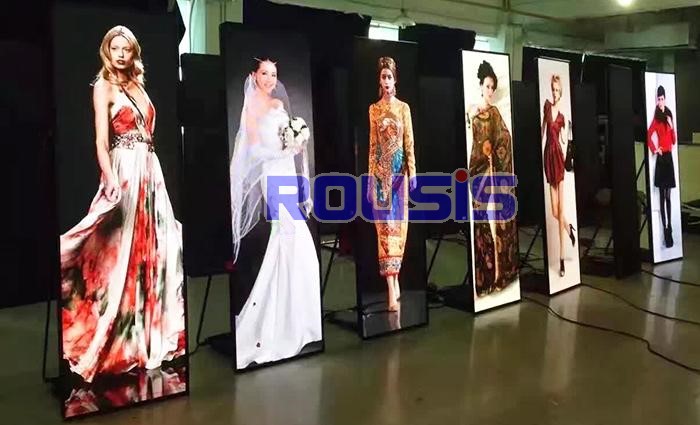 LED Poster display stand is a specially designed product targeting for indoor HD LED advertising with highly integrated hardware and outdoor led display player with high brightness and easy installation, ultra-thin and light, which can be your first choice to achieve high resolution LED advertising - poster effect.
Main features:
- various installation solutions
- easy operation
- multiple communication modes
- high brightness
- low power consumption
- ultra-thin body
- stable and high-quality display effect even against bright light.
It is a new product that overturns traditional LCD ad player (high cost, low-quality picture, uneven brightness, heavy body and high energy consumption), and can be widely installed in hotels, restaurants, shopping malls, banks, government agencies, hospitals etc.
LED Advertising Player Features:
Ultra-thin and light-weight body - thickness (40 mm) and weight (less than 40 kg) makes installation easy and fast .
Various installation solutions - fold-out stand, hanging or on wall.
HD visual experience - 2.5 mm and 3 mm pixel pitch, high refresh rate (2000Hz) and brightness (1200 nits) provide users with perfect display.
High Brightness 3.91mm,4.81mm with >6000 Nits and Waterproof features for outdoor conditions and long lifetime.
Various display modes - besides single display work mode, multiple led display screen can be combined together creatively to bring a variety of display effect and improve the advertising efficiency.
Elegant appearance - aluminum frame, fully enclosed frosted back cover, acrylic glass surface,it is a mirror led display with customized border color for an eye-catching appearance.
Multiple communication modes - communication via USB, WIFI, network cable and HDMI increase service efficiency.
Highly integrated hardware - integrated internal control system and power supply ensure the independent communication and management without other hardware, saving the CTU for customer.
Poster LED Display Player Advantages:
Light and portable design enables quick installation and different installation modes.
Vivid and colorful picture provide fantastic visual effect. Brightness increased 3 times compared with conventional LCD (400 nits).
Easy Operation (3 min)
Delicate appearance and customized border color attract more attention, and numbers of visitors increase by 42% at least.
No license fee, the CTU (cost to use) is low. On average, only $4.5 cost every day, however the income will increase by 2 times.
LED Advertising Poster display is expected to offer a new and preferable led display solution for indoor information exchange and outdoor business promotion for retail stores, shopping centers, airports, train stations, libraries, hospitals, restaurants and supermarkets.