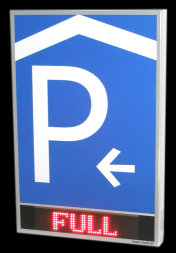 Our company manufactures a range of labels for electronic management systems Parking. These displays inform drivers of what lanes are free for transit to or from places Parking. Also inform the public about how many seats are available or if the parking is full. Handled by special remote control or automatically by computer managment system of Parking.
The aploystero parking system consisting only of an electronic sign has scheduled two messages:
There is the possibility that messages are different depending on your choice. Changing messages is done with a simple switch that is connected to the electronic sign
For those who are planning or constructing automatic parking systems, the communication protocol is available to customize the electronic sign to be incorporated into your system showing the public the necessary information.
Show room: